Our Projects - Overview
The Vergola opening and closing louvre roof system can be built to suit a variety of designs.
Each of our projects is custom-built to complement your property and requirements.

Visit our Social Media pages to keep up to date with our most recently completed projects
The Box Frame design is a more modern design to suit rendered homes. This also allows for Heat Strip® and/or down-lights to be installed

Frames are built with Treated Pine and then flashed with colourbond for a crisp and clean finish.

Posts can be made from rendered brick/'blue' board or Colourbond® flashed with a timber/steel post inside.
Vergola® can be built with a two tone colour option.
Darker frames with lighter louvres to match an existing roof structure or create an indoor feel for your outdoor area
Simple yet elegant. The single beam build our most popular design. The simplicity in design allows for a seamless blend onto an existing home, both new and old. The frame is typically flat & the louvres have fall built into control water.
The Vergola® system is custom built to suit your needs and as such we can build to suit an existing frame or built into an existing roof structure

Vergola® is versatile enough to match any architectural style and feature. We can build to a pitched roof (Skillion mono-pitch or shed-style) or to match angles or triangular sections
A gable roof is most commonly occurring roof shape and Vergola® can be built to match the style and pitch of your home.
Vergola® gives you the ultimate control for your pool area, allowing you to enjoy your swimming pool year round.

Vergola® allows you to control the light and air-flow during hot summer months and can also keep the heat in during winter.
A vertical Vergola® or screen can be the perfect solution to provide privacy to your outdoor area as well as being the perfect complement to your Vergola® roof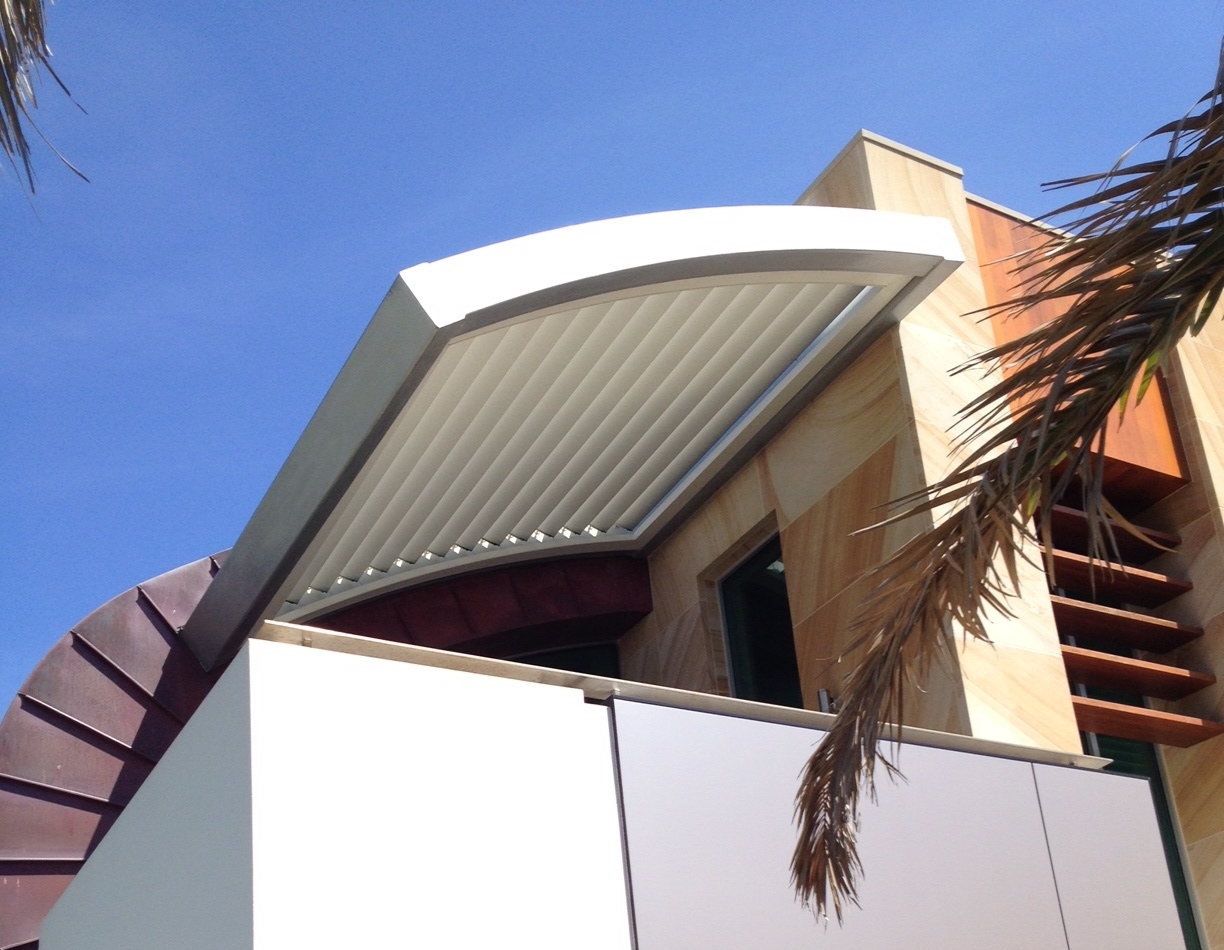 Vergola® is not restricted to flat squares and rectangluar areas. If your home or outdoor area incorporates curves or a rounded design, Vergola® can be built to match or completement as required
Vergola® is not limited to backyards and decks. We offer a variety of balcony/outdoor area solutions to help meet your Apartment living needs
The control and versatility offered by Vergola® can help to maximise your customer experience.

Vergola® can be a valuable and versatile outdoor solution for restaurants and cafes, university campus, school playgrounds, clubs, science and technology parks, sports facilities, pool decks on boats, hospitals are just some of the places Vergola® has been installed Australia-wide.
Here you will find some of the most common questions about the Vergola product, its functionality, applications and capabilities.
Feel free to contact our office if you have further questions or would like any further details on the information here.